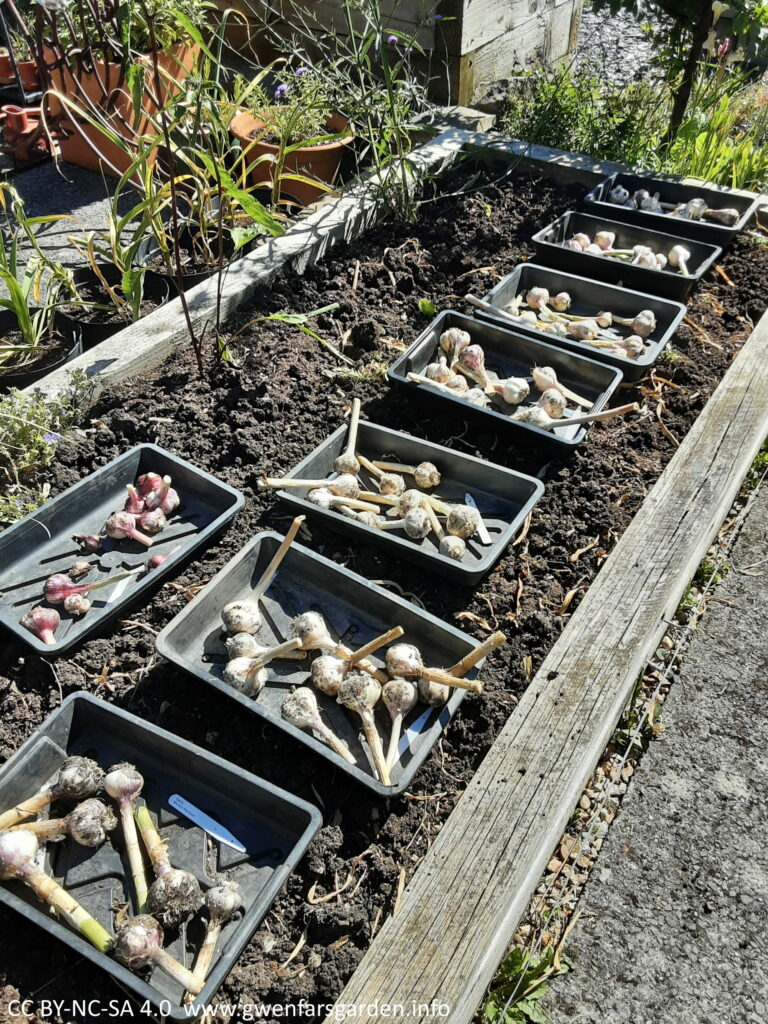 On the weekend we harvested my garlic crop, and as the weather is so dry (hot!) at the moment, I'm letting them cure in the sun for a few days.
The bulbs are smaller this year. This may be a combination of a drier Spring (it was cold, but mostly dry) & me not being well enough to do any watering. Still, they are a better size that most supermarket garlic.
Onto the news… Over the last year I've found it continuing to be hard to garden with ME. Whilst using a heart rate monitor has helped me manage my energy better, it also made me realise that I had to cut back further on gardening (on everything, to be honest), and that led me to decide that I need to stop growing most vegetables and fruit, as they require more energy and attention to grow than I have. When your life has been reduced to the size of a postage stamp, every little task, every movement, has an impact.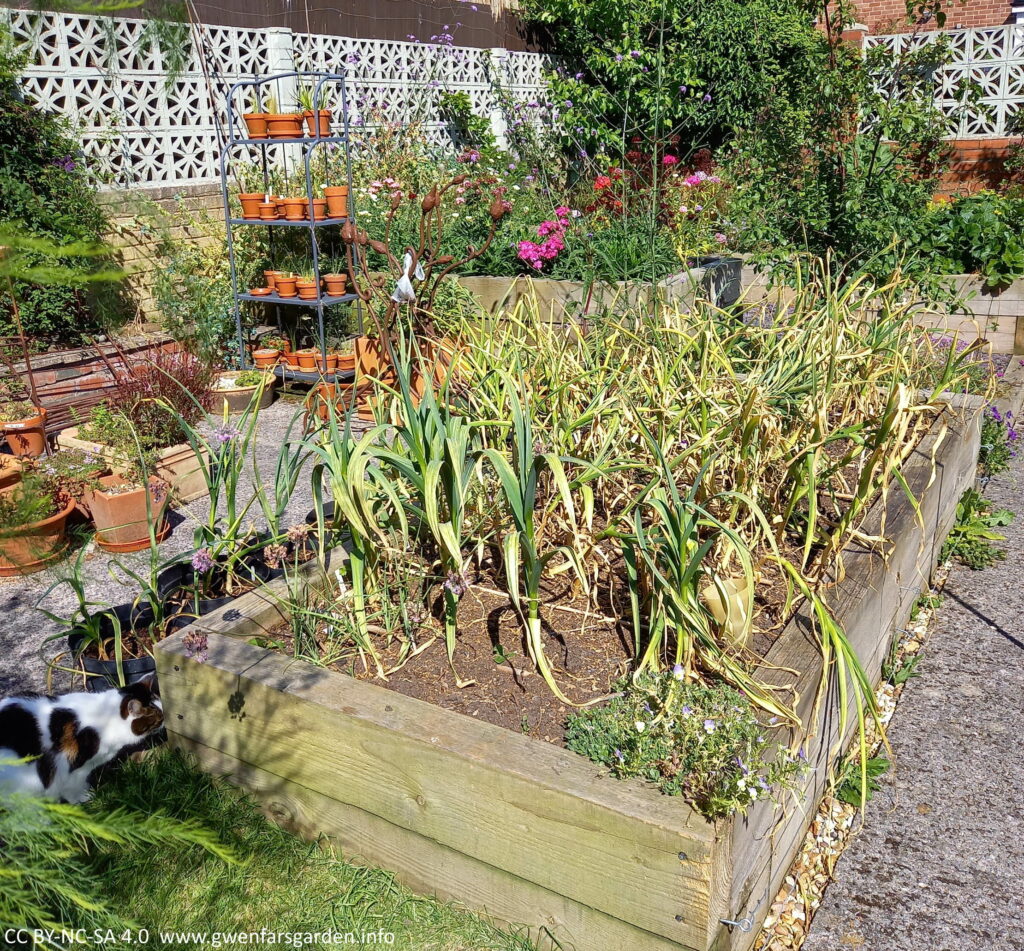 I'll continue to grow sorrel, as it pretty much looks after itself. I'm undecided about the garlic. Most of the garlic I grow is not sold to be grown in the UK (I got them from a friend in The Netherlands in 2009 and have been growing them on ever since), and it would be great if I could find someone who would like grow them! If you're interested, let me know.
The bigger news, is that…. we are moving again. In a couple of weeks time we will have moved to Penarth, South Wales (near Cardiff). This is for a variety of (personal) reasons, including being closer to some friends and living somewhere more accessible. The new house has a much smaller garden and I'm going to go back to basic permaculture principles, and design a better garden around my health; a design that at it's basis, is one I can manage if I'm this ill for the rest of my life. Because, well, the chances of a cure for ME in my lifetime, is unlikely. I don't want to give up gardening entirely, so giving up growing food, and growing easier to maintain plants (more evergreen low-maintenance shrubs and drought-tolerant plants, are high on my list), is my new challenge.
I'm really excited about the move. Penarth is along the coast, down from Cardiff, so we will have both seaside and countryside nearby. Where we are moving to has quite a lot of disabled access paths very close to our house (something sadly lacking in Sheffield), including along the cliff tops down to the pier in town, which is a big plus. It will be great to be closer to good friends again too. Plus: Dw i'n dysgu Cymraeg – yes, I've even started learning Welsh on Duolingo.
So that's my news. I'm hoping to have the energy to publish a couple of posts about this garden. As you can see from the amount of time since my last blogpost, I've had to cut back on blogging as well. But I would like to share some photos of how the garden has been looking this year, as a way of saying goodbye to it.