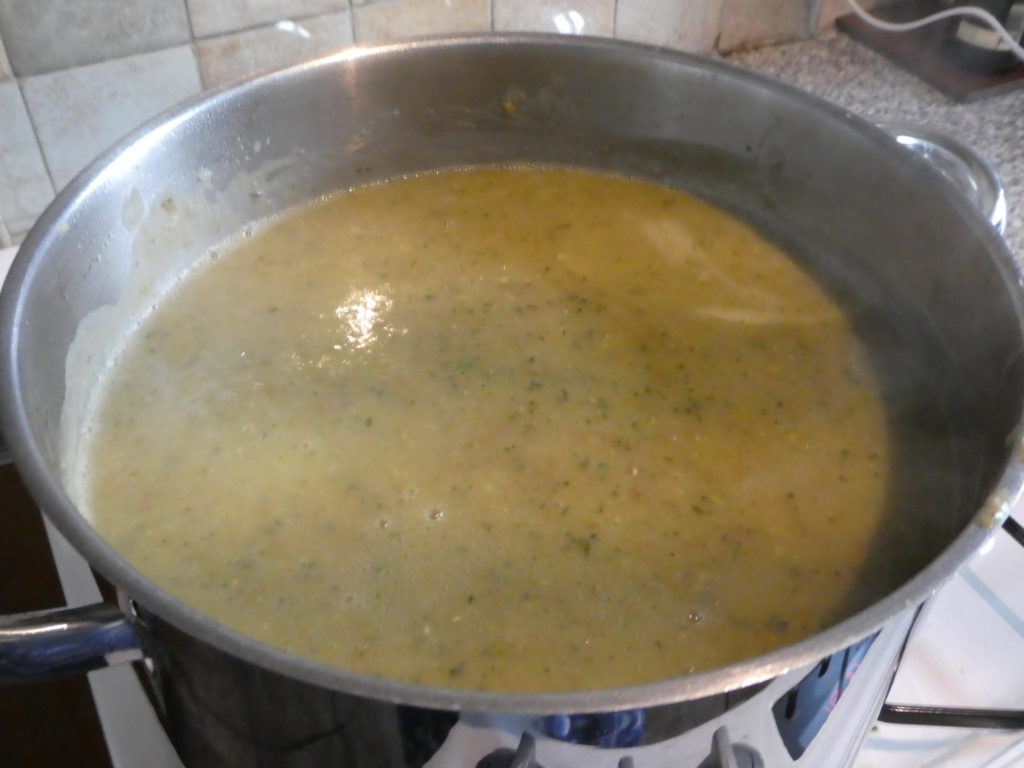 Serves 6
450g courgettes – chopped
350g potatoes – peeled and chopped (I leave the skins on as I prefer them that way)
3 garlic cloves – chopped
1.2 litres veg stock
Small bunch oregano
Summer: add ½ cup lentils (c. 120g)
Winter: add ¾ -1 cup lentils (c. 150g to 230g)
225g Brie – rind removed, or 200g grated cheddar or feta
1. Briefly fry garlic and oregano.
2. Put all the veg in a large pot, add the stock.
3. Bring to the boil, and add the lentils. Then simmer for 15 minutes or until the veg are tender.
4. Cool slightly, then process the soup using a blender until smooth.
5. If batch cooking, separate out into containers to freeze. When eating straight away or once a batch has been defrosted, see 6 and 7.
6. Add the cheese, bring back to near boiling point, stirring constantly so the cheese is combined with the liquid (you can also do this step using a microwave).
7. Taste and adjust seasoning if needed.
The lentils make it a heavier but protein rich soup, so I've given rough summer/winter estimates, given you don't always want a heavy soup in summer.
This soup easily scales up too. I often make x4 of the recipe, c. 10 litres.
Note: this is based on an Allotment Soup recipe, by Michelle at Veg Plotting, but adapted to my taste.
* * * * *
About Gwenfar's Garden recipes